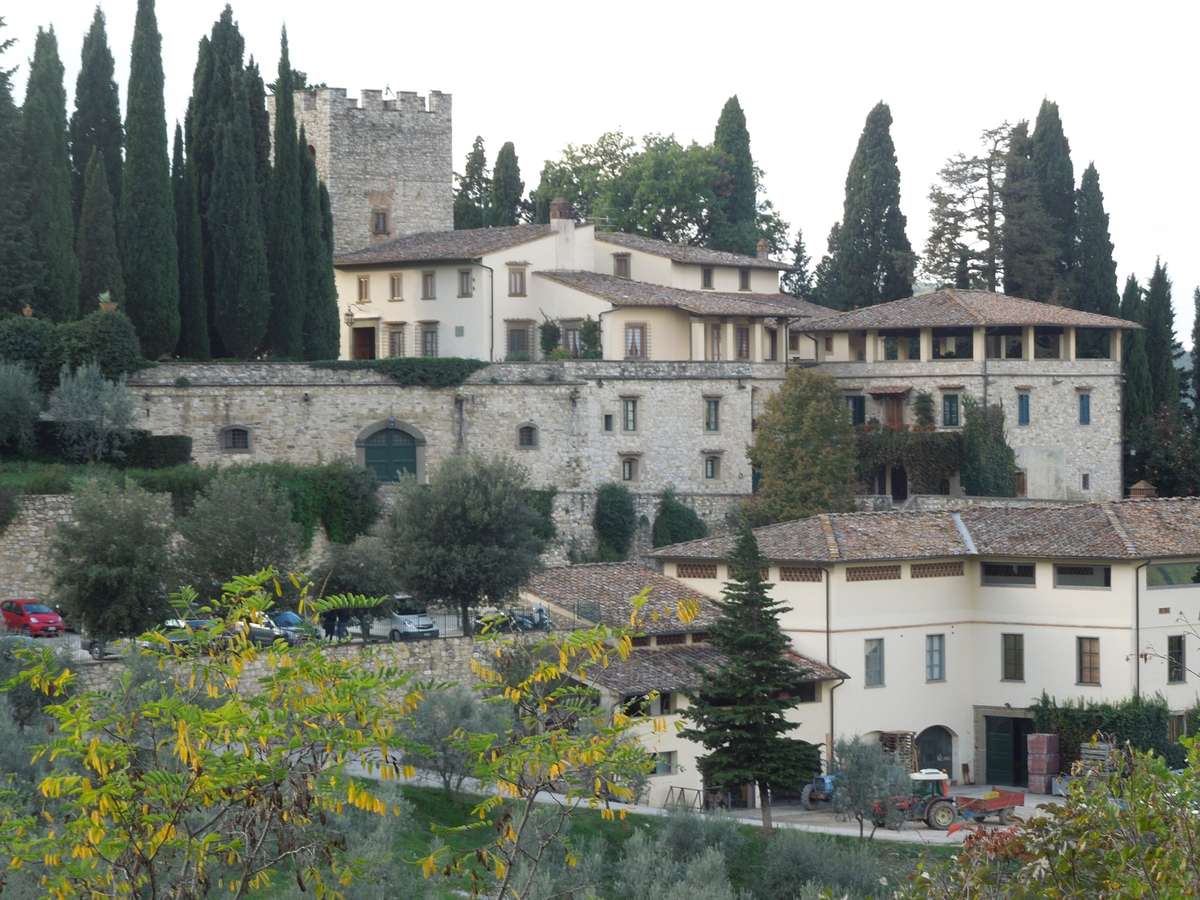 Tenuta di Nozzole
Tenuta di Nozzole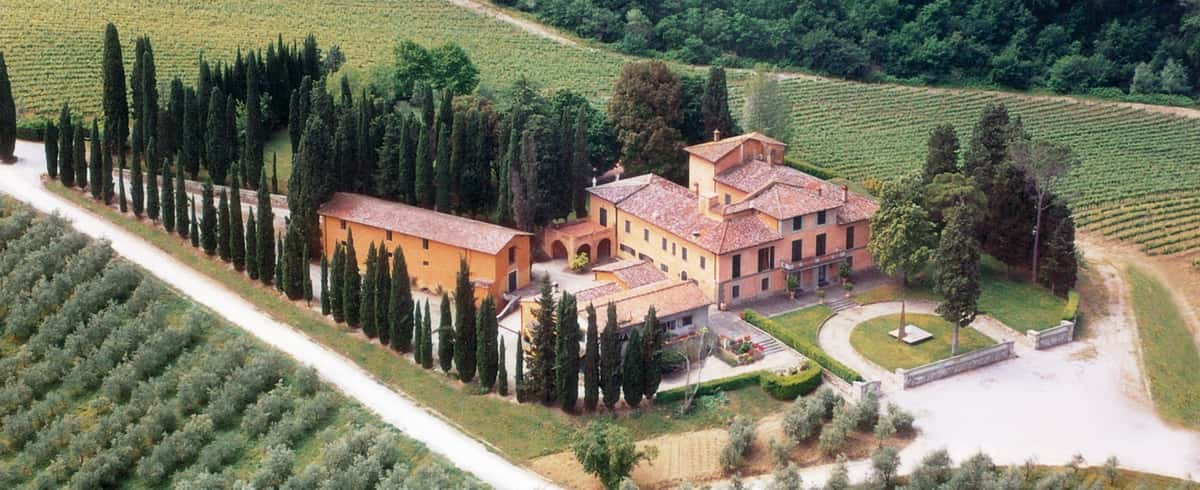 My first trip to Italy was in October of 1995, my wife and I spent eleven days traveling around Tuscany and Piedmont with her parents. This trip was a little intimidating for me, my in-laws travel extensively and my mother-in-law likes to plan her trips to the minutest detail. Since I planned the entire itinerary for the trip, the pressure was on. Enter good old "Murphy's Law", our flight was delayed in Belgium for about four hours, definitely not the way we envisioned our trip starting off.
This was an extremely difficult time for us, there weren't any cell phones and trying to reach our contact in Italy at the winery was proving to be more difficult than it should have been. I don't think Italy was famous for its phone system. When I was finally able to reach the number I had been given to contact our host, he wasn't home and I spoke to his wife. She didn't speak English and I didn't speak Italian, to say the frustration was building was an understatement. Trying to convey to her we would be late was impossible. To make matters worse, we flew into Milan and picked up our rental car and began our drive to a small town in Tuscany called Greve. When I booked the flight, I didn't quite realize just how far a drive it was from Milan to Greve, it was about three and a half hours, if you had a clue where you were going. (we didn't) You have to understand, there wasn't any GPS to rent with your car, we were depending on good old map reading, did I mention that by this time it was getting dark. We finally arrived at our destination at around nine o'clock and the winery was pitch dark. My heart sank. We all got out of the car and walked around looking for some sign of life. I didn't dare look at my mother in law at this point for fear of the look she was probably giving me by now. Just when all seemed lost, all the exterior lights came on at the winery and our host came out a side door and yelled, " the Varano's have arrived." The relief that came with the uttering of that one simple sentence was overwhelming.
With our crisis averted, we all realized two things, we were exhausted and we were starving. Our host gave us a tour of the thirty-five room villa we would be staying in, complete with an enormous tasting room stocked with my favorite wines from the Ruffino estates. We were graciously informed that we were to treat the villa as if it was our own, and help ourselves to any wine we wanted and that the Chef took the liberty of laying out a buffet for us. As it turns out, our host's wife doesn't speak English, she does however understand it. All our messages and phone calls had been relayed to John throughout the day.
He'd anticipated our late arrival and the fact that we probably hadn't stopped for anything to eat.
Tenuta di Nozzole was the very first winery I visited in Italy. Tenuta Nozzole was originally part of the Ruffino empire. The villa we stayed in was under a major renovation, and was slated to become the guest relation center for Ruffino, along with a cooking school. We were the first guests to stay in the refurbished villa and it was stunning. It felt like one of those master card commercials, plane tickets, fourteen hundred dollars, four hour delay in Brussels, insane drive to Tuscany in the dark, spending two nights in a thirty-five-room villa with a private chef and host, priceless.
Tenuta di Nozzole was where I was introduced to Italian Cabernet. The Nozzole "Il Pareto" was one of the wines we tasted while visiting Nozzole. It completely blew me away, I never realized Italians produced single-vineyard Cabernets of such magnitude. Obviously, I was a bit naive, my palate was structured around Sangiovese-based wines and Super Tuscans. I was aware Italians used some cabernet to blend in their Super Tuscans, I never realized that they produced stand-alone single-vineyard Cabs.
The Folonari family has produced wine at Nozzole since the late sixties, finally purchasing the estate in 1971. They started producing "Il Pareto" in 1987, the success of the cabernet has been overwhelming, I wouldn't hesitate to taste this wine blind against any cabernet. I think the results just might surprise
you. The estate is located in the small Tuscan town of Greve, home of the explorer Verrazzano. We spent two days at Nozzole, enjoying the villa and being escorted around Tuscany to visit various properties owned by Ruffino. The surroundings and local scenery are breathtaking, enjoying it with a guide was special. In the afternoon of our first day at the estate, we returned from our tour for an Italian Barbecue. Frankly, I never knew that Italians did barbecue. This was definitely a first for me and an eye-opening experience. The kitchen at the estate had a wood-fired grill with a massive stone chimney, It had a roaring
fire when we entered the kitchen. Italian Barbecue happens over a wood fire, as the wood burned down and the glowing bed of coals was perfect, the chef went outside with a machete and chopped some rather large rosemary branches to place over the coals. It was then, with all the smoke from the rosemary, that the chef put the sausages and ribs on the grill. I was hooked. I have been grilling my meats with that flavor combo ever since. The chef also had an interesting take on garlic bread, he brushed the bread with olive oil and grilled it on both sides, then placed it on a dish with raw peeled cloves of garlic. We were instructed to mash the raw garlic into the bread. What an experience, I was in heaven. Needless to say, the common theme of our trip was consuming amazing wines, overindulging in incredible food, and soaking up the scenery.
The highlight of our visit to Nozzole was tasting the "Il Pareto" single vineyard cabernet. What prompted me to write this article was a dinner I had with some friends at our house recently, I went into my cellar and was hunting for something special to drink, and lo and behold, I pulled out the "Il Pareto". My friends went crazy over the wine and I welcomed back an old friend. Was I glad I still had some left in my cellar.
I know Americans are programmed to think California when you think of Cabernet, step out of your comfort zone, and expand your wine palate. I think you might just surprise yourself. Italian cabernets have acidity which lends them to pairing well with food. I think that it gives them an advantage over some of their counterparts, don't take my word for it, you need to try it for yourself.
Dick Varano